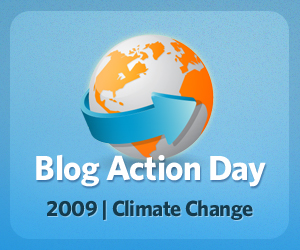 Blog Action Day
This post was created in participation of Blog Action Day 2009, which is focused on Climate Change.
Bringing Change
In my opinion, the best way to help the environment is to change the cost and economics, so that it favors clean sources of energy.  For example, people will start buying electric cars when they are priced roughly the same as gasoline powered vehicles.  And, they will convert to wind and solar power when it becomes price competitive with utility power.  Until then, people won't convert en mass to green energy, because most people can't afford to.
The Monopoly on Energy
Currently, our choice is limited to gasoline vehicles and utility-based energy, because they have a government sanctioned monopoly.  Starting way back in the 1800s with Standard Oil, energy producers have always found a way to limit our choices and avoid competition.  Even though Standard Oil was broken up by the Supreme Court in 1911, Exxon and Mobil have since merged again.  Refinery capacity has been consolidated and this appears to affect gasoline prices, which no longer follow the prices of crude oil. 
The monopolistic practices also continue on a local level.  Oil companies are quietly taking over gas stations, so they can control pricing at the retail level.  I know someone who has owned a gas station for decades who has recently been forced out by the oil company.  They were told their contract won't be renewed, which allowed the oil company to take over their station.  This has been happening quietly throughout the country for years, which is another reason gasoline remains expensive, even when oil prices drop. 
Renewable Energy
The biggest problem with renewable energy is that it can't be sold, taxed and controlled.  That's why we don't have it available.  Energy providers cannot afford to lose control of their monopoly.  The Government doesn't want us to have energy sources that are freely available and cannot be easily taxed.  There are some issues related to cost, storage and efficiency.  But these could easily be overcome by commercialization and mass production.
If you follow the development of electric cars, they are being created in partnership with utility companies. Utilities stand to make huge profits in our shift from gas to electric cars.  The effect of these partnerships is that none of the electric cars under development contain a solar panel.  (I don't count the Prius, which only runs a cooling fan.)  If you ask auto makers why a solar option isn't available on their new electric car, they will give you a vague answer.  The real answer is they don't want to lose funding from utility companies and the DOE.
Personalizing Energy
My vision of the future of energy is very positive.  I foresee a revolution unfolding much like it did in the computer industry.  Once people got their hands on a personal computer, it empowered them with innovative and creativity new technology.  The Internet allowed virtually unlimited communication, connections and resources.  Mass production of computers drastically reduced costs and improved technology.  Most important, knowledge and power shifted from the few to the many.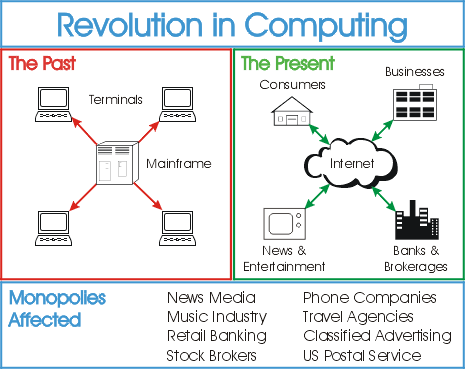 Energy Independence
One thing holding back renewable sources of energy is a suitable energy storage device.  People still need energy after the sun goes down and the wind stops blowing.  And, battery technology is expensive, caustic and inefficient to run a business or a household.  Fortunately, there is a lot of research being conducted in this area.  One potential solution is being studied by Dr. Nocera at MIT.  It is similar to a hydrogen fuel cell, but it mimics photosynthesis and uses non-toxic materials.  This discovery could revolutionize the storage of energy.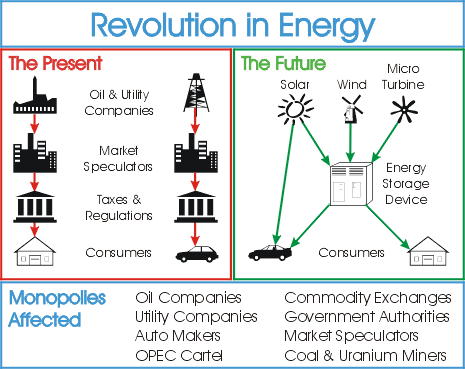 The Bottom Line
The bottom line is that we have been manipulated, polluted and cheated for far too long.  And, we are never going to get a fair break from energy providers, because their business model relies on keeping us dependent on them for energy.  We need to seize control of our energy resources and demand products that are powered by nature.  And, we must demand that our elected representatives respect our wishes for clean and renewable energy.  Until we take control of energy, we are at the mercy of those who poison our world for a profit.
"Competition is a sin."

John D. Rockefeller – Chairman of Standard Oil
Recommended Reading
Finance bloggers participating in Blog Action Day:
DebtGoal.com
LenPenzo.com
PoorerThanYou.com
TheDigiratiLife.com
Here is an intersting article in Fast Company:
This post was featured on the Carnival of Personal Finance. If you aren't familiar with the Carnival of Personal Finance, it's the premiere carnival of its kind. If you want to read informative articles from knowledgeable bloggers, this is the place.