Since it's coming up on Mother's Day, I thought I would tell the story of my Mom, who gave me life and so much more.  I've never posted about my family before, because I respect their privacy.  But, my Mom's story is so inspirational that I just had to share it with you.
Happy Mother's Day
First, I would like to wish every Mom a Happy Mother's Day and I hope your day is truly special.  Moms have the most important job in the world and they deserve some recognition for everything they do.
Our Mother's Day Tradition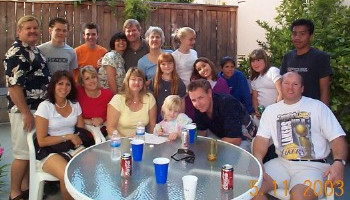 Mom doesn't allow gifts on Mother's Day.  She only wants her children and grandchildren to be at her house for dinner.  So, I will show up on Sunday with my card, my family and a big hug.  My brothers and sisters will all be there and the kids will hang out together.  I've never missed a Mother's Day in my life.
In the Beginning
When my parents were still together, Mom took care of the finances.  She was magical in her ability to make ends meet.  She could feed a family of seven with a single chicken and a couple of potatoes.  My parents sent five kids to Catholic school and supported us on a single income.  It still amazes me to this day.
Mom went to work after we were bigger and she worked at Sears for seven years.  But, it was her second job at First Trust Bank, where she really started to hone her financial skills.  Although the pay was low, the experience was invaluable to her.  I can still remember the glimmer in her eyes when we talked about investments.
The Middle Ages
After my parents divorced things got tougher.  Mom had to keep the whole house running by herself.  Dad's child support helped a lot, but the weight of responsibility fell squarely on Mom.  She never buckled under this pressure.  She always had that confident smile that let us know everything would work out.
Mom took care of the house, raised five kids, worked a full time job and went to night school.  After 11 years of college, she graduated with honors with a business degree.  The jobs that were available to her at the time were mostly secretarial.  So, she started her own tax and bookkeeping business, which she sold when she retired.
The Later Years
Mom finally started to pull ahead financially after we all started moving out.  Without the drain of kids on her finances, she was able to take better care of herself.  She paid off her house and then acquired a rental property, which provides income in her retirement.  She lives a comfortable life with her husband and they travel a lot.
Despite earning a modest income for her entire working life, she accomplished so much through sound financial planning.  And she has shared generously with others in so many ways.  She started college funds for her grandchildren and gives them each a savings bond every Christmas.  She sends them a quarterly statement, to encourage them to save and invest.  Her example has put us all on a similar path.
What I Learned about Finances from my Mom
No matter how much you make, you should always save some.
Spend the time to choose good investments and it will pay off.
Real estate can be a great investment, when purchased wisely.
A college education is an investment in your future income.
Starting a business can put you in control of your own career.
Teaching your kids about finances is your duty as a parent.
What I Learned about Life from my Mom
Hard work always pays off, but it often takes time.
The best way to influence others is to lead by example.
Strength is a silent quality that shows in your actions.
Wisdom comes from experience and you never stop learning.
Compassion for others is a gift that will return to you.
The Bottom Line
There is no amount of money that could repay the debt of gratitude that I owe to my Mom.  I'm certain she feels a great reward just to see me becoming successful on my own.  Yet, I feel compelled to share the wisdom I received from her.  So, you are now the beneficiary of my mother's wealth of experience.
"All that I am or ever hope to be, I owe to my angel Mother."

Abraham Lincoln – 16th President of the United States
Recommended Reading
This post was featured on the Carnival of Personal Finance. There are lots of great articles from many of the best personal fianance bloggers. Check it out.