This post isn't going to be a rant about how the younger generation is lazy and self-absorbed. This post was created to encourage young people to step-up to the responsibilities that lie ahead of them. There are some very honest evaluations and comparisons. And, there is some good advice from an old dude who has already lived through most of what young people will face in the next 25 years.
Lessons in Life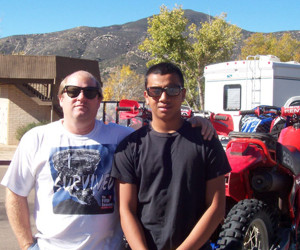 This post was inspired by my son Aaron. He is a typical 20-year old who is trying to find his place in this world and to make a living in tough economic times.
His perspective on life has taught me as much about being a parent as I have taught him about being an adult.
This hasn't been an easy process for either of us. But, it seems to be working. So, I will share some of what I have learned with you.
Conflict of the Generations
A couple of days ago, I was visiting with my neighbor. And, I asked him if he missed his two daughters who had gone away to college. His answer surprised me. He said, "No, it was a perfect time for them to go. They have had enough of us and we have had enough of them." He loves his daughters and is very proud of them. And, they are both really great kids. Of course he misses them. But, he is happy the house is peaceful and quiet. He no longer has to argue with his kids and a great weight of responsibility has been lifted from his shoulders.
Children's Side of the Conflict
Conflict –Young adults believe they are entitled to all of the rights, freedom and privileges of other adults. And they resent being told what to do and when they can do it. They are trying to express themselves freely and live their lives as adults. But, their parents still treat them like children and are constantly nagging them.
Considerations – What kids may not realize is they haven't yet earned the rights or freedom of an adult. If they are still dependent on their parents, they still have to live by their parent's rules. And, their parents are still responsible for them in many of ways, even though they have turned 18. Also, parents worry about them whenever they are out late or engaged in dangerous behavior.
Solution –If kids believe parents are interfering with their life, they should move out and pay their own way. The rewards and experience of living on their own will greatly outweigh the tight finances. And, they will be able to make their own decisions. If they are being supported through college, they need to respect and appreciate the sacrifice their parents are making. Most important, they will need to think and act like an adult, before others will begin to treat them as an adult.
Parent's Side of the Conflict
Conflict – Parents may see their adult children as lazy and irresponsible. Their kids may not contribute to the family financially or by helping out around the house. They may leave messes everywhere and argue constantly. Parents may have to nag them frequently to do the simplest things. Kids may feel entitled to cars, cell phones, computers and a college education, which parents had to earn for themselves.
Considerations – What parents may not realize is their children haven't yet learned about finances or how it affects their standing in society. And, society is now more protective, which places a higher burden on parents and less accountability from children. Other kids are receiving cars, computers and cell phones, which is why they feel entitled.
Solution – Parents need to stop subsidizing an idle lifestyle and insist their children contribute whatever they can. Parents need to teach their children about finances, even if they aren't shining examples. Parents need to explain how much money it costs to live and why kids need to choose a career that will support them and their future family. Most important, parents need to prepare their children to become financially and emotionally independent.
The Game of Life
I remember playing a board game called Life when I was a kid. As I moved around the board and landed on squares, I was able to graduate college, get a job, get married and have children. At age 10, I didn't realize the significance of this game. At age 45, I understand it completely. Unfortunately, accomplishing these goals in real life is much more difficult. So, planning and execution are critical.
How I Played the Game
| | | |
| --- | --- | --- |
| Goal | Action | Result |
| House | I started saving for a house when I was 21. The last two years, I saved the difference between rent and mortgage. | At 31, I bought a nice house at the beach for cheap. We have a small mortgage, low taxes and a nice lifestyle. |
| Family | I met a girl with a baby boy and fell in love. We moved in together after 3 months and got married within a year. | We lived in poverty for many years and accumulated a lot of credit card debt. We used to fight a lot over money. |
| College | I started college right out of high school. But, I dropped in and out 3 times and didn't graduate until I was 37. | I lost hundreds of thousands of dollars in income, because I didn't have the education to advance in my career. |
| Career | At 21, I quit my union job to work in the computer field. But, I didn't have a proper education or experience. | I spent almost a decade being underpaid. But, this was a great move later in my life. I do pretty well now. |
Final Score – My goals that were planned well and executed well turned out well. Goals that weren't planned well caused me a lot of financial hardship. Goals that weren't executed well cost me dearly.
Future Considerations
The future for young adults in America is more uncertain than at any time I can remember. Your parents have lived through recessions and tough economic times before. Young people may not realize this, but the economy, housing and the stock market move in cycles. So, they have crashed in the past and they will crash in the future. This is natural and should be expected. In fact, you should prepare for it. What is different this time are some of the new problems in America that your parents didn't have. Here are the new issues you will face:
Irresponsible Government – Never has the burden of our Government looked so ominous. The corruption, bickering and reckless spending has put America in a very bad position. Younger generations may be facing a future where America is not the leader of the free world.  You may face higher inflation, taxes, currency devaluation, unemployment and failing infrastructure, courtesy of the disaster that is our Government.
Income Disparity – Everyone knows the rich are getting richer and the rest are getting poorer. The working class is disappearing, along with the jobs that used to support them.  There are many reasons for this including greed, corruption, globalization and our transition to a knowledge economy.  The net effect is there won't be many good jobs for the uneducated.  So, unless you can live on $9 per hour from a McJob, you better plan on going to college or starting a business.
Aging Population – Because of the demographics of the Baby Boomers and because fewer children are being born, you will be saddled with an incredible burden from the aging population.  This problem is already occurring in Europe, Asia and other parts of the world.  This burden may become overwhelming, considering our Government's mishandling of Social Security and Medicare.  You may have to personally take care of your loved ones in the final days of their lives.
The Bottom Line
The bottom line is that you will decide how to run your life and accomplish your goals.  And, you will have to live with the results from your efforts.  And one day, if you are very lucky, you will have to pass your experience onto the next generation.
"Every generation needs a new revolution."

Thomas Jefferson – Founding Father of America
Recommended Reading
This post was featured on the Carnival of Personal Finance. If you aren't familiar with the Carnival of Personal Finance, it's the premiere carnival of its kind. If you want to read informative articles from knowledgeable bloggers, this is the place.