Yesterday, the Democratic establishment got a huge shock when the state of Massachusetts voted Republican Scott Brown into office for the U.S. Senate.  Massachusetts is a staunchly Democratic state and Brown was elected to take Edward Kennedy's seat.  Kennedy was a big supporter of Government health care, which Brown and most voters are not.   Brown's election victory has revoked the Democrat's super-majority and killed any prospects for a Government run health care system.
Most important, it has sent a message to politicians that voters will no longer be ignored.  They are angry with the Government and they are doing something about it.  They are voting out incumbents, as they did in November to the Governors of Virginia and New Jersey.  I predict incumbents will lose a lot of seats in the next election and not just Democrats.  Republicans have shown an equal am0unt of arrogance and incompetence.  And, they share the blame for our Government's failures.
Balancing the Budget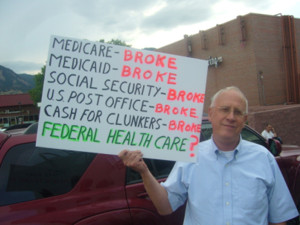 The Federal Government is slow to catch on to what most Americans figured out last year.  No one can keep spending money they don't have.  But, while most Americans have started to balance their own budgets and save for their futures, the Federal Government has gone on a wild spending spree, with the taxpayer's money.
Just as the Government is attempting to raise the debt limit by another 1.9 Trillion dollars, Americans are starting to realize our precious tax dollars are being squandered away.  There is very little benefit to Main Street Americans, because most of our tax money is finding its way to wealthy entities, like banks and energy concerns.  Our economy cannot recover under the burden of a voracious Government.  And, there are very few opportunities for the hordes of unemployed.
Rise of the TEA Party
I have written before about the rise of the TEA Party and the possibility of many politicians being voted out of office.  And, it appears that my predictions are starting to come true.  The TEA Party has been marginalized by the Government and the media alike.  They have been portrayed as a right-wing gang of rednecks and fundamentalists.  The power elite believed the TEA Party represents a small minority of vocal zealots.  Nothing could be further from the truth.  Everyone seems to be concerned about the future of our nation, whether they watch Glenn Beck or not.
History is definitely repeating itself.  Just like the aristocracy in England, our Government feels they are above the whims of common folk.  And, just like the original Boston Tea Party over 200 years ago, the people of Massachusetts have sent a message regarding representation.  How far this revolt will go is anyone's guess.  My opinion is that it's far from over.
Government Health Care
The Health Care bills proposed by Congress and the Obama administration are a microcosm for all that is wrong with our Government.  They start by adding trillions of dollars in costs to a health care system that is already insanely expensive.  And, they create legislation that is so convoluted even their own experts can't predict how it will affect us.  Then, they cut back-room deals with labor unions and hold-out states.  Finally, they shift choice and control away from employers and citizens and back to the Government.
I can't speak for every taxpayer.  But, I believe I am in the majority when I say most Americans don't want the Government to take over health care.  What most Americans want is our current private health care system to be more affordable.  And, they want benefits to be portable, while doing away with pre-existing conditions, blanket claims rejections and frivolous lawsuits.  They want to choose their own coverage and doctors, without having to answer to a Government official.  It sure seems a lot easier to reform our existing health care system than to create a new one.
The Bottom Line
The bottom line is that America's experiment with socialism is coming to an end.  We cannot afford the higher taxes or the burden of a larger Government.  All of the bills from years of reckless spending are coming due and we can't afford to pay them.  It's up to voters to demand responsibility.
"You cannot keep out of trouble by spending more than you earn."

Abraham Lincoln – 16th American President
Recommended Reading
This post was featured on the Carnival of Personal Finance. If you aren't familiar with the Carnival of Personal Finance, it's the premiere carnival of its kind. If you want to read informative articles from knowledgeable bloggers, this is the place.