There was a fun discussion over at 101 Centavos last week on his post Are you Worth as much as a Plumber?  Some of the commenters, such as The Biz of Life and 101 Centavos, were big fans of Doing It Yourself.  There was even some mention of Man Points for fixing things.  Others, such as Funny about Money, had hilarious tales of projects gone horribly wrong.  She even called us out by dropping the T word.  That's right Testosterone.
Since I am an avid Do It Yourselfer (mostly because I am cheap), I thought I would share three examples of where we saved a ton of money by doing it ourselves.  And the projects came out great.  As for Man Points, I have to admit my wife looks at me totally different after I fix something on a Sunday, instead of napping on the couch watching an Angels game.
The Pergo Floor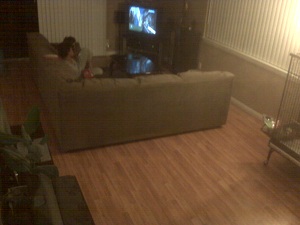 Having cream colored carpet at the beach is just a bad idea, especially in the entry way of the front door.  I had always wanted to put in some bamboo flooring, but budgetary concerns kept me from realizing my dream.  (I was too cheap.)  One day, we were in Lowe's and my wife pointed out the Pergo flooring.  Since it snapped together, even amateurs like us had a shot at putting it down.  Plus, we wouldn't have to wax, refinish or maintain it.  It was right up our alley.
We measured it out and bought the materials.  We also bought the little plastic hammer, pounding block and other accessories.  I already had a table and jig saw, so I only needed to borrow a chop saw.  The demolition work wasn't much fun.  We had to remove all of the carpet, Linoleum, tack strips and nails. We also swept up about 50 pounds of sand that was under the carpet.  Putting in the Pergo wasn't that hard.  My wife laid down the underlayment; my brother laid down the Pergo; and I made all of the cuts.  One weekend and $1,000 later, we were the proud owners of a beautiful new faux wood floor.
The Truck Bed Swap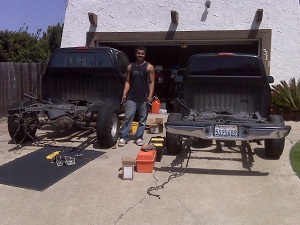 Nothing brings back teenage memories for a middle-aged man like watching his kid trash their vehicle.  When my son got rear-ended by a speeding BMW, I thought the little Toyota truck was lost.  But, after I inspected the damage, I realized that the frame was straight and only the bed and bumper were damaged.
I figured we could get a bed and bumper at a junk yard and fix the truck, without going to the very costly body shop.  Our big opportunity came when my nephew lunched the transmission on his similar Toyota truck and we bought the parts from it.  We unbolted the two truck beds, picked them up and threw them on the lawn.  Even though the trucks were different model years and one was an extra-cab, the trucks beds were nearly identical.  They were even the same color, so we didn't have to paint.  We swapped the beds and bolted them on the opposite trucks.  Four hours and $500 later, the truck was as good as used.
The Upstairs Bathroom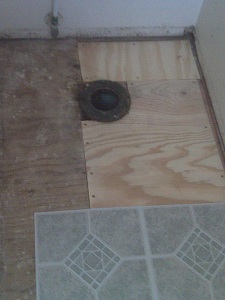 Nothing is more terrifying to the average homeowner than the two dreaded words, plumbing leak.  This condition is enough to send a staunch man into a quivering state of shock, as he has visions of dry rot and empty bank accounts.  This will immediately affix the wife onto his case, until the situation is stabilized.  She will be having visions of mold and mildew in the walls.  Plumbers and contractors love a situation like this, because it's practically an open checkbook.  It's not like a remodel, where you have a choice to do it or not.  It has to be fixed, and it has to be fixed now.  They will be having visions of bass boats and Hawaiian vacations.
It takes some pretty big boots to rip up a sub-floor for the first time.  And, it takes some awesome power tools.  This project created the opportunity for me to buy the reciprocating saw I have always wanted.  The rest of the materials were pretty cheap.  I bought some glue, 2x4s, a sheet of plywood, caulking and some Linoleum tiles.  I finished the job with ten fingers and toes.  Six hours and $300 later, the kid's bathroom was water tight and looking good.
Tips for Do It Yourselfers
There once was a time honored tradition of going into the hardware or the auto parts store and asking someone who worked there for advice.  If you were lucky, they had someone on hand who either worked in the trades or was a solid amateur.  Now days, you walk into a warehouse store and talk to a kid who looks like he changes his clothes, about as often as you change your motor oil.  We still have a downtown hardware store, so I am happy to pay a little more for my building supplies.  Since I live in a military town, I find a kid in the auto parts store who looks like a Marine from Indiana.  If I see a Mustang or a Camaro in the parking lot, I can usually get help.
Thanks to a modern marvel called the Internet, help is often only a couple of clicks away.  I like to jump on YouTube and watch videos of people doing these projects, before I get started myself.  That way, I have the right supplies and I don't go off in the wrong direction.  Twice, these YouTube videos have completely saved my project when I was stuck in the middle and had parts everywhere.  Something as simple as changing the brakes on a Jetta can turn into a nightmare, until you figure out the how the mechanics compress the wheel cylinders.  Watching the YouTube video is way better than reading through my Chilton's manuals.
Disclaimer
No wives or other females were harmed during this post.  Any reference to people you know is purely coincidental.  Men are well aware that most women work really hard, but we enjoy acting like the stronger sex.  My wife has helped me lay tile, remove Linoleum, change oil, install Pergo, paint the house dig an irrigation drain and scrape the cottage cheese off the ceilings.
The Bottom Line
The bottom line is that people can save a lot of money by doing some things for themselves.  I have personally saved tens of thousands of dollars and have the satisfaction of a job well done.  But, it takes careful preparation to avoid a failed project.  Some projects are better left to the experts.
"It takes half your life before you discover life is a do-it-yourself project."

Napoleon Hill – Author of Think and Grow Rich
Recommended Reading
Frugal Dad – Outsourcing Household Chores
The Financial Blogger – Extra Income for Hands On People
Ask the Builder – Water Damaged Drywall
This post was featured on the Carnival of Personal Finance over at Kitten a Go-Go.  If you aren't familiar with the Carnival of Personal Finance, you need to check it out. It's the greatest carnival on the net.
This post was also featured on:
101 Centavos – Revolution, Baby! A Bastille Day Roundup
Money Crashers – Round-Up: Don't Lose Your Footing on Life

Thank you for the links to my blog.