I'm about to do something very controversial and I will probably get some hate mail in the process. As a personal finance blogger, I feel the responsibility to advocate that we profit from Earth Day and the coming environmental changes it may bring.  Make no mistake about it, whatever your stance on climate change, there are going to be some radical changes in energy and transportation.   And, investors are very important for making this happen.  I'm not just posting about this subject, I have already invested my hard-earned money in green technology and I hope it pays off.  I will also be buying many of these new products, as soon as they are economical.
Happy Earth Day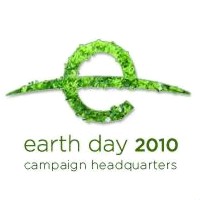 The original Earth Day was held in 1970 and this year marks the 40th anniversary.  The origins of Earth Day date back to 1969, when the Cuyahoga River in Ohio caught on fire.  This was a source of embarrassment for Ohio and for the entire United States.   So, Earth Day was born and it is now the largest non-religious holiday in the world.  And, environmental legislation was passed to clean up many of the most polluted sites in the country.  We've come a long way.
Personally, I'm not convinced of the coming cataclysm from manmade pollutants.  Climate Change, which is often called Global Warming in the summer, is an emotional subject, based on some curious scientific models.  I got a big kick out of watching the Day After Tomorrow movie, which is about as realistic as the 2012 and Y2K movies.
However, I am a huge fan of clean air, clean water and a reduction of pollution of all types.  I see no good reason to poison our world, just to make a few greedy people rich.  There are much better alternatives for energy and transportation.  I was born in one of the smoggiest places in the nation. And, I have seen the incredible changes just from switching to unleaded gas and catalytic converters.  When we finally stop burning things to produce energy, we will be living in a beautiful future.  Now, is the time to start.
Technologies to Watch
Electric Cars – This is the year electric cars become a reality.  Nissan started accepting $99 reservations for the Leaf on Tuesday and they had to extend the deadline by four hours, so everyone could get their orders in.  The Leaf costs around $32,000 ($25,000 or less, after incentives), so it is affordable for the masses.  Next year, Ford is expected to release an electric version of the Focus, which should also be affordable.  There are a number of key reasons I think electric cars will succeed, despite their cost and range limitations.  They are simpler than gasoline powered cars and at some point they will be cheaper to produce.  Plus, they are much cheaper to operate and maintain.  As battery technology improves and oil prices rise, they will be hard to resist.
DME –Dimethyl Ether is a clear gas that can be used as a fuel in modified diesel engines.  There are three important reasons why DME could be the way of the future.  1) It costs about half as much as diesel fuel.  2) It burns clean and is low on NOx, soot and CO2.  3) It can be made from many abundant sources, including natural gas, gasified coal, organic waste and biomass. So, instead of burning our food for energy, we could burn DME.   The down-side of DME is that trucks and fueling infrastructure would have to be modified.  But, the upside is that our economy won't grind to a halt when peak oil arrives and the cost of diesel fuel skyrockets.  The military is also evaluating DME.
Self-Generation – I like to call this personalized energy.  Others call it the Micro Grid.  There are a lot of people who would like to leave the energy grid and generate their own power.  Unfortunately, this is currently only affordable to millionaires and Hollywood types.  But, in the near future, I believe wind and solar products will become affordable and self-generation will become a reality.  The real key is an effective energy storage device.  Imagine a fuel cell the size of a washing machine that could power your house for days.  They are working on it at MIT right now.  When that arrives, wind and solar will take off and the cost of all these technologies will drop dramatically.
Micro Turbine – These ingenious devices are simple, clean and efficient generators of electricity.  They can run on virtually anything from diesel, kerosene and natural gas, to biomass and methane from landfills.  Currently, they are used on oil rigs and for backup power for data centers.  But, I think they could have a much bigger role to play.  1) They would make an ideal range-extender for series hybrid cars, like the Chevy Volt.  They weigh half as much as a piston engine and only have one moving part.  2) They are ideal for backup power for people who want to unplug from the electrical grid.  After the sun goes down and the wind stops blowing, people still need power.
Disclosure:  I own shares of Ford (F), Capstone Turbine (CPST), Energy Conversion (ENER), Alternative Fuel Technologies (AFTC) and some uranium mining stocks (FRG, TEUFF, PNPFF, MGAFF and LMRXF).  I don't recommend these types of stocks to anyone with a low risk tolerance.  I'm pretty happy with my investment in Ford.  The uranium stocks, not so much.
The Bottom Line
The bottom line is a tectonic shift is coming in the field of energy.  Petroleum and coal, at some point, are headed the way of whale oil and kerosene lamps.  Nobody knows for sure when we will hit peak oil or if the globe will warm rapidly.  Everyone knows there are better ways to power our world.  There will be the early adopters.  There will be those who are stuck in the past.  And, there will be those who profit from these changes.
"We do not inherit the earth from our ancestors, we borrow it from our children."

Native American Proverb
Recommended Reading
This post was featured on the Carnival of Money Hacks. This is a wonderful collection of articles and I am honored to be posted among such a talented group of bloggers.